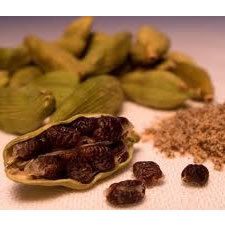 This Pure Therapeutic Grade Essential Oil is packaged in  a 15 ml Amber glass bottle with a phenolic cap.
Pure Cardamom Essential Oil
Botanical Name: Elettaria cardamomum
Plant Part: Seeds
Extraction Method: Steam Distilled
Country of Origin: India
Cardamom Essential Oil is sweet, spicy and almost balsamic in fragrance - Strength of Aroma: Strong
Cautions: Non-toxic, non-irritant and non-sensitizing. Avoid use during pregnancy.