Dead Sea Salt Foot Scrubs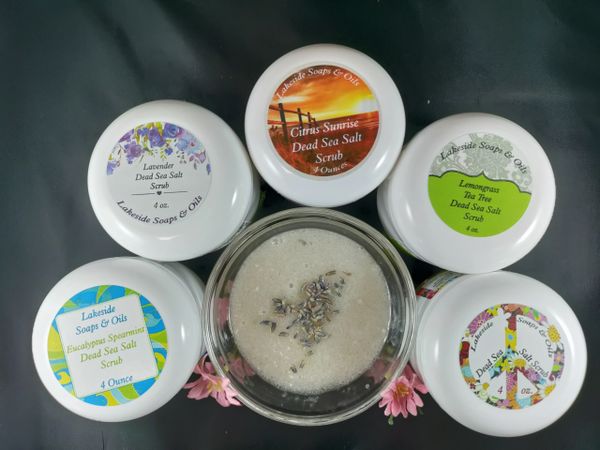 "Because life is always better barefoot" 
Show your feet some serious love with this moisturizing scrub! We make this skin loving scrub with 8 natural ingredients, including raw honey that acts as a natural antibacterial agent full of antioxidants to soothe and cool your skin. We offer it in 4 incredible essential oil blends that brings the added benefit of aromatherapy!
Citrus Sunrise - Wake up sunshine! You'll be ready for the day after bathing with our Citrus Sunrise scrub. This invigorating scent will have you greeting day with a smile.
Eucalyptus Spearmint – This is the one! That will help you release the stress of the day. Breath in calmness and exhale tension.
Hippie Chick - Feel the good vibs! Earthly patchouli & zesty orange, with a hint of warm vanilla, offers a peaceful easy feeling.
Lavender Peppermint – Pamper Me Time! Enjoy this classic & amazing scent that you would only find in a luxury spa...in the comfort of your own home.
Lemongrass Tea Tree – Go Ahead, Indulge Yourself! If you are one of those who loves a refreshing, citrusy, earthy aroma. It's a perfect blend... Lemongrass with a hint of Tea Tree.
To Use:
Apply the scrub to your wet skin then scrub in a circular motion then rinse.
After the shower/bath use a towel to pat your skin dry.

Cautions:

Be aware oils will leave your tub/shower slippery.
If you have any cuts or scratches on you hands or body, dead sea salt may sting when applied to those areas.
Place lid back on product after use as to not get water into the product.

Ingredients: Dead Sea Salt, Fine-Grain Sea Salt, Grapeseed Oil, Avocado Oil, Raw Honey, Castile Soap, Vitamin E, Essential Oil Blends.