Lemongrass Green Tea Hemp Seed Oil Soap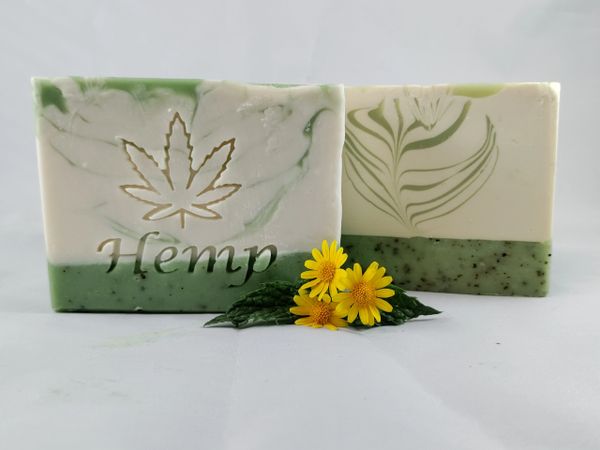 This soap is made with Hemp Seed Oil and DOES NOT contain CBD or THC.
Soothing green tea brought to life with fresh lemongrass, lime, verbena and ginger. With delicately warm notes of vanilla and amber.
Hemp Seed Oil is one of the most nutrient rich oils available, packed with protein, Omega-3 & Omega-6 fatty acids. It has a wonderful creamy lather, and leaves your skin feeling clean but not dry.
We hand craft this soap in small batches using the cold process method, which cures 4-6 weeks. Each bar comes shrink wrapped and labeled. Labels include ingredients and weight. We label with exact ingredients and minimum weight. Each bar is cut by hand so size and weight may vary slightly.
4oz
Vegan Friendly
Biodegradable
100% Therapeutic Grade Essential Oils
Minnesota Grown Organic Oats
Free Of:
Detergents, Sulfates, Foaming Agents, Parabens, Phthalates, Glutens, Petroleum Derivatives, Lauryl/Laureth Sulfate, Propylene Glycol, and Animal Testing.
Ingredients: Organic Coconut Oil, Organic Sustainable Palm Oil, Organic Olive Oil, Organic Rice Bran Oil, Green Tea, Sodium Hydroxide, Organic Shea Butter, Castor Oil, Hemp Seed Oil, Colloidal Organic Minnesota Oats, Essential Oils, Fragrance, Kaolin Clay, Mica.