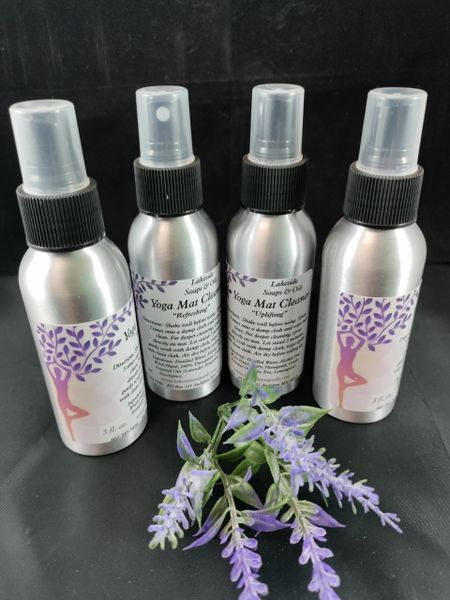 Yoga Mat Cleaner
4oz Spray Bottle
This cleaner will not dry your mat out like other cleaners since it does not contain alcohol. We only use Alcohol-Free Witch Hazel, so you won't smell it, but you'll surely feel it!
Just spray it on your mat and wipe dry. Not only does it clean, but is made with essential oils for aromatherapy to relax and focus you during your practice.
Calming - Calming to your nervous system every time your nose gets near your mat, which in yoga is very often…..you will want to take that deeper inhale. (Lavender & Eucalyptus)
Invigorating - The warmth of sweet orange entwined with refreshing peppermint for a gentle pick-me-up. Feel the menthol coolness for your entire class! (Peppermint & Orange)
Refreshing -Refresh & Renew with Eucalyptus. It will leave a clean, refreshing scent in the air, which will help bring balance with a renewed focus. (Eucalyptus, Bergamot, Lavender)
Uplifting - This spray will leave your mat clean and your spirit refreshed! With an invigorating blend of tea tree and eucalyptus, you'll be tempted to spray this product everywhere you go! (Tea Tree & Eucalyptus)
Ingredients: Distilled Water, Alcohol-Free Witch Hazel, 100% Therapeutic Grade Essential Oil Signature Blend.