Bentonite Clay (Acne) Facial Mask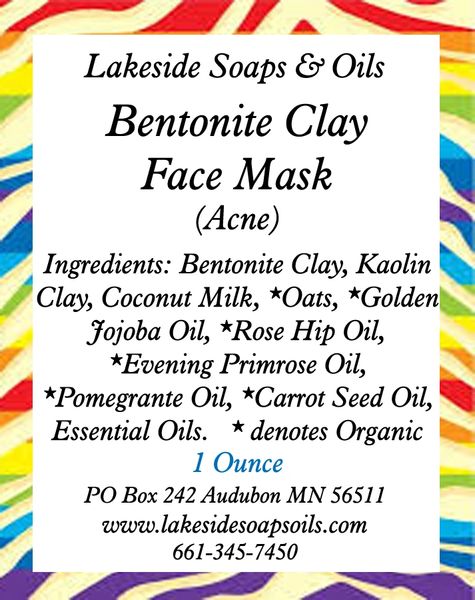 This natural clay mask is made with Bentonite Clay & Organic Oats....Awesome combination for skin care.

Bentonite Clay - is extracted from volcanic ash!  Perfect for oily, acne-prone skin. This weekly treatment mask is a great addition to any skin care routine.
Colloidal Oats - contains saponins, a cleansing agent, making oats perfect for all skin types, including sensitive skin. A natural moisturizer and buffer that soothes and protects skin.
A little goes a long way:
2oz bag makes 7-8 facial masks
1oz bag makes 3-4 facial masks
We do not premix our masks, so the facial mask you will receive is still in its powdered form; this will help to ensures that the last mask you make is as fresh as the first.
Ingredients: Bentonite Clay, Organic Colloidal Rolled Oats, Organic Coconut Milk Powder, Organic Golden Jojoba Oil, Organic Evening Primrose Oil, Organic Pomegranate Oil, Organic Rosehip Oil, Vitamin E, Organic Carrot Seed Oil, Essential Oils of (Frankincense, Geranium, Myrrh)