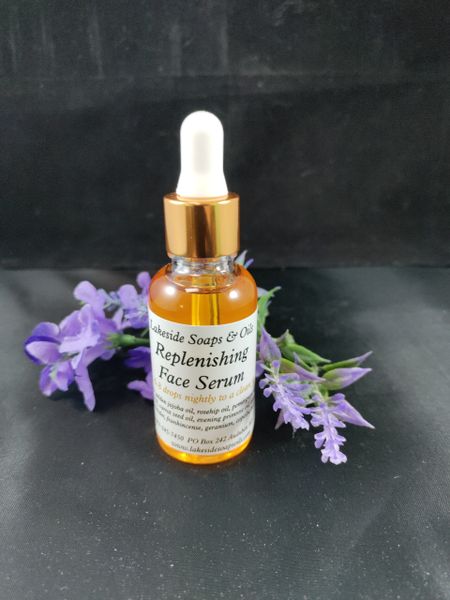 1oz

This serum contains 10 all natural incredible, and amazing ingredients! That will provide nutrients, antioxidants and hydration to promote skin that looks vibrant.
Golden Jojoba Oil - Is non-greasy, and is easily absorbed. It both cleanses and moisturizes the skin at the same time. It has Vitamins A and E.
Rosehip Seed Oil - is rich in vitamin C, Omega-3 and Omega-6 fatty acids, all of which are known to aide with scar tissue, dark spots and hydrate dry or itchy skin. It is also high in retinoic acid!
Evening Primrose Oil - is high in essential fatty acids which help the skin retain moisture, and is a exceptional moisturizer for dry skin. It also help balance skin's pH leaving your skin soft and smooth.
Carrot Seed Oil - is high in beta carotenes, Vitamins A, E & C. It helps stimulate cell growth while removing toxins, which gives the skin a more toned, youthful appearance.
Pomegranate Oil  - is rich in vitamin C, Hydrates dry skin and significantly decreases skin roughness.

Directions: Apply 6-8 drops to clean face and neck area daily. Best used at night due to it's oily nature.
Ingredients: Organic Golden Jojoba Oil, Organic Rosehip Oil, Organic Evening Primrose Oil, Organic Pomegranate Oil, Organic Carrot Seed Oil, Essential Oils of (Frankincense, Geranium, Lavender, Cypress, Copaiba Balsam)