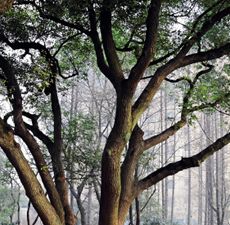 This Pure Therapeutic Grade Essential Oil is packaged in  a 15 ml Amber glass bottle with a phenolic cap.
Pure Camphor Essential Oil
Botanical Name: Cinnamomum Camphora
Plant Part: Wood
Extraction Method: Steam Distilled
Origin: China
Description: The camphor tree can grow up to 35 meters (100 feet) and camphor is found in every part of the tree. Camphor Essential Oil is extracted by steam from the chipped wood, root stumps and branches. It is then rectified under vacuum and filter-pressed. White camphor oil is the first distillation fraction.
Color: Colorless to pale yellow clear liquid.
Consistency: Thin
Note: Top Strength of Aroma: Strong Aromatic Scent: Camphor Essential Oil has a strong, penetrating, fragrant odor.
Cautions: Camphor oil is powerful oil and should be used with care. Overdosing can cause convulsions and vomiting. Pregnant women or persons suffering from epilepsy and asthma should not use it.