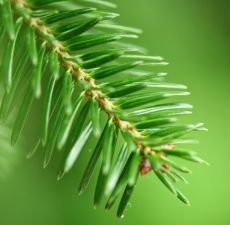 This Pure Therapeutic Grade Essential Oil is packaged in  a 15 ml Amber glass bottle with a phenolic cap.
Pure Fir Needle Essential Oil
Botanical Name: Abies siberica
Plant Part: Needles
Extraction Method: Steam Distilled
Origin: Russia
Description: Fir Needle Essential Oil comes from the Pinus type tree which grows in wide areas of Russia. Fir Needle Essential Oil has a fresh, woody, earthy, sweet scent that is much like the outdoors. Many compare it to the smell of the Great Canadian Outdoors.
Cautions: Fir Balsam Essential Oil is non-toxic, non-irritant and non-sensitizing. Liquid may cause irritation to the eyes so use well diluted. Avoid use during pregnancy.