Ylang Ylang Essential Oil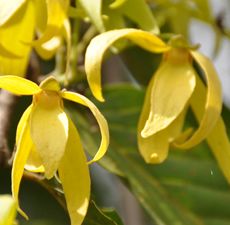 This Pure Therapeutic Grade Essential Oil is packaged in  a 15 ml Amber glass bottle with a phenolic cap.
Botanical Name: Cananga Odorata
Country of Origin: Madagascar
Extraction Method: Steam Distillation
Plant Part: Flower

Description: Ylang-ylang Essential Oil is extracted from Cananga odorata _ also known as flower of flowers. It is a tall tropical tree about 20meters (60 feet) high with large, tender, fragrant pink, mauve or yellow flowers. 
Color: Pale to golden yellow clear liquid.
Consistency: Thin
Note: Base Strength of Aroma: Medium Aromatic Scent: Ylang-ylang Essential Oil has a sweet, exotic, floral scent that is one of the most sought after aromas.
Cautions: Ylang-ylang Essential Oil can cause sensitivity on some people and excessive use of it may lead to headaches and nausea.